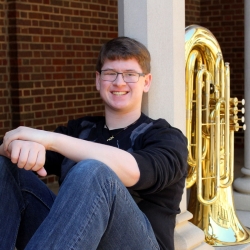 Sam Michels
2014 Winner
Sam Michels is a junior tubist attending Dowling Catholic High School, West Des Moines Iowa, where he is a member of the Symphony Band, Dowling Catholic Vanguard Marching Band, Jazz Ensemble, Downtown Swing Project jazz combo, and other chamber ensembles.  He is a low brass specialist playing trombone and euphonium in addition to tuba.  Sam is also a member of the Dowling Catholic Choir.
In addition to his activities with the Dowling Catholic High School Music program, Sam is principal tuba in the Des Moines Youth Symphony (2013-2014), a member the Des Moines Youth Symphony Honors Brass Quintet (2012-2014), and is a member of a student jazz combo in Susie Miget's Creative Music Studio.
Sam has been selected for numerous honor bands including the Iowa All-State Band (2012, 2013), South Central Iowa Bandmasters Association (SCIBA) Honor Band (2011,2013),  Drake University Honor Band Festival (2013, 2014), the Iowa State University Honor Band (2014), and Penn State University Honors Institute Wind Ensemble (Summer 2013).  He has performed with distinction in the State Solo contest receiving superior ratings every year on tuba, trombone, and euphonium, including an award of "Center Outstanding Performer" in 2013 for his performance of "Haddad Suite for Tuba".
Sam is a 3 year student of Michael Short, principal tuba for the Waterloo-Cedar Falls Symphony.   He has also worked with Gary White, Casey Maday, Susie Miget, John Benoit, Velvet Brown, and Mark Lusk.  Sam is excited to have been selected to study at the 2014 Interlochen Summer Arts Camp- Trombone and Tuba Institute where he has the opportunity to work with Roger Bobo and Carol Janstch.
Outside of music, Sam has been active in Boy Scouts, achieving the rank of Eagle Scout in 2013.