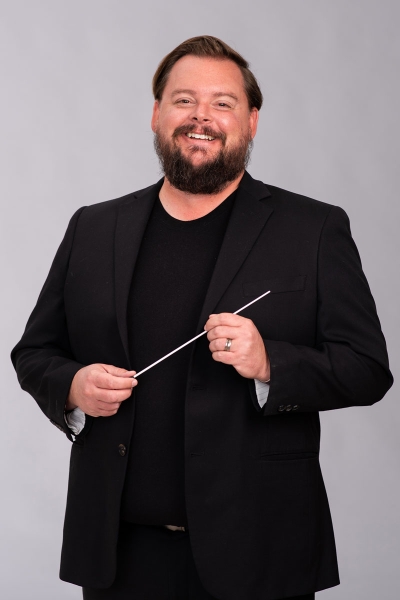 Christian Carichner
Music Director (2019 – present)
Christian Carichner serves as the Associate Director of Bands and Director of the Cyclone Marching Band at Iowa State University. He oversees all aspects of the Athletic Band program including the 350-member Iowa State University Cyclone Football 'Varsity' Marching Band, Men's and Women's Basketball bands, Volleyball Band, Wrestling Band and State Storm. In addition to his athletic band duties, Christian also teaches the Marching Band Methods course and instructs the applied Tuba and Euphonium studios. Previously, Christian served as Assistant Director of Bands at ISU in addition to instruction of the low brass studios, teaching low brass methods, and directing both the Concert and Campus bands.
While serving as director of the Cyclone Marching Band, the band was awarded the prestigious Sudler Trophy – the highest honor bestowed upon a collegiate marching band in the United States.
Christian attended Ithaca College where he earned degrees in music education and performance while studying tuba with Dave Unland and brass pedagogy with Alex Shuhan, as well as conducting studies with Stephen Peterson, Jeffery Grogan and Janet Galvan. After Ithaca, Christian earned a Master of Music degree in Tuba Performance from Arizona State University where he studied with acclaimed Tubist and pedagogue Sam Pilafian. Christian also studied tuba with Patrick Sheridan, Charles Villarrubia and Matt Good.
Christian has performed or taught in 47 states and 12 different countries across the globe. Recently, he was a clinician/presenter at The Midwest Clinic, the CBDNA Athletic Band Symposium and a performer/clinician at the International Tuba Euphonium Conference.
Christian has also performed with the Arizona Musicfest Orchestra, the Tampa Tradewinds, the Orchestra of the Southern Finger Lakes, Conway Symphony, Pinnacle Brass, Rhythm and Brass, Proteus 7, Salt River Brass and has performed with the national tour of the hit Broadway musical Chicago.
Christian served for many years as Brass Caption Head for the Phantom Regiment and The Academy Drum and Bugle Corps, as well as a lead brass instructor for the Aimachi Marching Band from Nagoya, Japan. Currently, he is in demand as a guest clinician, judge and show designer/arranger.
Christian is a member of CBDNA, Pi Kappa Lambda, Phi Kappa Phi and the International Tuba Euphonium Association. He is an honorary member of both Kappa Kappa Psi and Tau Beta Sigma. Christian is also the first marching brass artist for Pearl/Adams where he consults on the design of their marching brass instruments and is also an Adams Custom Brass artist.
Mark Doerffel
Co-Conductor (2019 – 2022)
Mark Doerffel, co-conductor of the Central Iowa Wind Ensemble, is Assistant Professor of Music and Director of Instrumental Activities at Grand View University in Des Moines. In addition to directing the Grand View Wind Ensemble and Jazz Ensemble, Mr. Doerffel's responsibilities include providing instruction in Applied Brass, Music Theory, Instrumental Methods, Conducting, and Music Appreciation. Prior to his appointment at Grand View, he served as music educator in the secondary school system in both Florida and North Carolina. Mr. Doerffel completed his doctoral coursework in Music Education at the University of Florida and received his master's and bachelor's degrees from Appalachian State University and Louisiana State University, respectively.
Mr. Doerffel has been actively involved in state and regional music education conferences in Arkansas, Iowa, Missouri, Kansas, South Dakota, Minnesota, Wisconsin, Florida, and North Carolina, presenting on topics ranging from classroom management and new teacher preparation to trombone and brass pedagogy.
Mr. Doerffel's dedication to excellence in music education extend beyond Grand View University. He serves as current President of the South Central District of the Iowa Bandmasters Association (IBA) as well as State Chair of the College Affairs Committee for IBA. His professional affiliations include the National Association for Music Education (NAfME), National Band Association, College Band Directors National Association, College Music Society, Iowa Bandmasters Association, and the International Trombone Association.
Mark lives in Ankeny with his wife Amanda and their two sons, Charles and Brooks.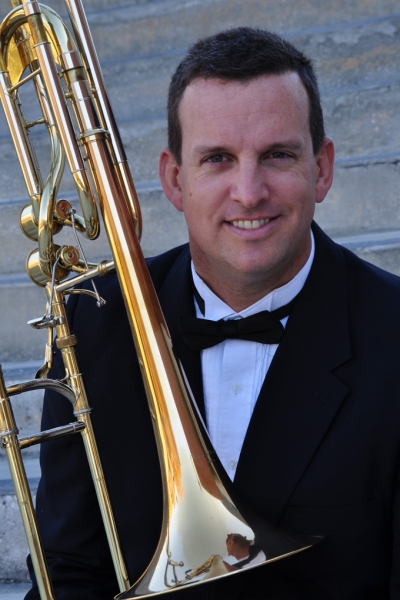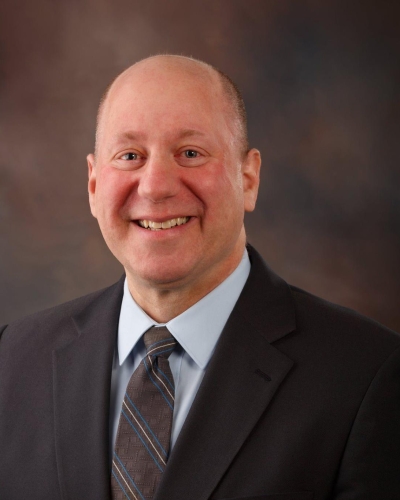 Dr. Mitchell Lutch
Conductor (2005-2018)
Mitchell Lutch is an Assistant Professor of Music and Associate Director of Bands at the University of Northern Colorado School of Music. Prior to his appointment, he served as Associate Professor of Music and Director of Bands at Central College in Pella, IA where he directed the wind ensemble and pep band, and taught courses in instrumental conducting, music education and music appreciation. Dr. Lutch also conducted the Grinnell College Symphonic Band from 2010-2018. Additionally, he founded and conducted the Iowa Chamber Players and directed the Central Iowa Wind Ensemble from 2005-2018.
From 2011-2015 he served as guest conductor for the El Sistema music program in Yucatan, Mexico during which time he directed an instrument donation initiative for it. As a result of such professional endeavors, he was recognized as the 2014 recipient of The Hutch Bearce Community Building and Faculty Leadership Award and the 2012 recipient of the The John Wesselink Outstanding Performance Award at Central College..
Dr. Lutch's book In Search of Meaning: Frank L. Battisti The Conservatory Years and into the New Millennium 1967 – 2018 will be released by Meredith Music Publications in summer 2019. His writing and research also appear in Instrumental Music Education, Routledge Publishing as a contributing author. This textbook, in its 2nd edition, and its extensive companion website have been incorporated into instrumental music education courses throughout the country. Additionally, his writing appears in five Meredith Music publications, the Alta Musica publication of the International Wind Music History Conference, the World Association of Symphonic Bands and Ensembles Journal, and the Iowa Bandmasters Association Magazine.
Artists he has collaborated with in his teaching career include Frank Battisti, Donald Hunsberger, Eric Ewazen, Dana Wilson, Keith Brion, Ellis Marsalis, Frank Foster, Slide Hampton and Marian McPartland. Dr. Lutch is Past President of the New York State Band Directors Association and has been a guest speaker at New England Conservatory, Shenandoah Conservatory, and Dickinson State University. Conducting appearances and research presentations include concerts and conferences throughout the United States, Quebec, London, Japan, The People's Republic of China, the former Soviet Union, Luxembourg, and Mexico.
He received his Doctor of Musical Arts degree in Instrumental Conducting at the University of Washington where he was a student of Timothy Salzman and earned his Master of Music degree from New England Conservatory where he studied with Frank Battisti serving as the graduate assistant for the NEC Wind Ensemble and assistant conductor of the Massachusetts Wind Ensemble. His Bachelor's Degree in Music Education is from the University of Lowell.
Dr. Evan Feldman
Conductor (2002-2005)
Dr. Evan Feldman is Director of Wind Studies and Associate Professor of Music at the University of North Carolina at Chapel Hill where he conducts the Wind Ensemble and teaches courses in conducting and music education. He also directs the Triangle Wind Ensemble and the Greensboro Symphony Youth Orchestra, and serves as Principal Guest Conductor of the Greensboro Symphony, where he conducts their education, holiday, and pops concerts.
He is an active guest conductor, clinician, and adjudicator in and outside of the United States, with recent engagements in Switzerland, Romania, Belgium, Spain, and Tanzania, as well as all-state, all-district, and all-county honor bands in the United States. Under his direction, the UNC Wind Ensemble has been invited to perform at the North Carolina Music Educators Association annual convention and twice to the College Band Directors National Association southern division conference. He has been described as "…the real thing – a conductor with evident ensemble-building skills who knows his way around the podium…"
In 2016, Dr. Feldman's college textbook, Instrumental Music Education (Routledge Publishing), was released in its second edition and has been adopted by university music education programs throughout the country. He is the author of the first MOOC (massive open online course) dedicated to conducting and rehearsal technique. Over 20,000 students have enrolled through Coursera.org. He is also a contributing author to three volumes of the series A Composer's Insight, including chapters on the wind music Sir Richard Rodney Bennett, David Bedford, and Adam Gorb. Other writings have been published in The Instrumentalist, the Iowa Bandmaster Journal, the MENC Music Educators Journal, and the IGEB Alta Musica.
Dr. Feldman's arrangements and editions of music by Léo Delibes, Ralph Vaughan Williams, George Enescu, Antonin Dvořák, Ariel Ramirez, and Sergei Prokofiev are published by Tierolff Muziekcentrale, and his research on wind music has been presented at the national and international conferences of CBDNA, WASBE (World Association of Symphonic Bands and Ensembles), and IGEB (International Society for the Promotion and Investigation of Wind Music).
Dr. Feldman earned the Doctor of Musical Arts in Conducting from the Eastman School of Music in Rochester, New York, where he studied with Donald Hunsberger and Mendi Rodan and served as an assistant conductor for the Eastman Wind Ensemble and Eastman Wind Orchestra. He received his Masters in Conducting from Ithaca College and his Bachelor of Arts in Music from Duke University.