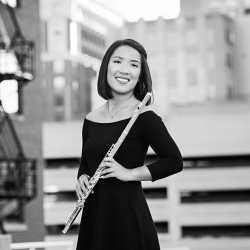 Maya Miller
2018 Winner
Maya Miller is a senior flutist from Roosevelt High School, but her journey as a musician began in Kindermusik as a toddler. She took up piano lessons in elementary school, continuing through middle school. Maya was introduced to the flute in fifth-grade band at Hubbell Elementary.
Currently, she plays principal flute for the Roosevelt Wind Symphony. Maya has proudly led the flute section as a marching band flute section leader for the past two years and was a featured soloist in the Roughrider Marching Band's 2017-2018 show, The Music of Queen.
For the past seven years, Maya has studied privately with Dr. Kimberly Helton of Simpson College. With Dr. Helton's unwavering support, Maya has led an exceptionally successful high school music career. She was selected for the Iowa All-State Band in 2014, 2016, and 2017, and twice competed in the Iowa Flute Festival's "Flute Wonders" competition where she earned Honorable Mention (2016) and third prize (2017). Maya also has also consistently received Division I ratings at Iowa's State Solo and Ensemble festival.
Although her plans for next year are still fluid, Maya plans to attend a four-year university to study International Studies and possibly minor in Flute Performance.
She will perform a senior recital to celebrate her work on May 20 at 2:30 p.m. at Plymouth Congregational Church, 4126 Ingersoll Ave., Des Moines.