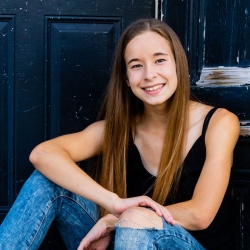 Lydia Berns-Schweingruber
2020 Winner
Lydia, a senior at Gilbert High School, is from Ames, Iowa. Her interest in music began in 1st grade when she started playing the piano. She has now studied piano with her instructor, Michiyo Nakatani, for over ten years.
In 5th grade, Lydia began playing the alto saxophone. During high school, she has been a member of her school's marching band, concert band, and jazz band, which are directed by Byron Tinder. Lydia has studied with her saxophone instructor, LuAnn Ewan, for the past five years.
Lydia was a member of SCIBA Honor Band in both 2016 and 2017. She was also the first chair alto saxophone in the 2018 All-State Orchestra and a member of the 2019 All-State Band. Lydia was named an outstanding soloist at the 2019 Iowa Jazz Championships.
Lydia has been a varsity athlete in cross country, basketball, and track in high school. She has also qualified for the state track meet in the long jump, shuttle hurdle relay, and 100-meter hurdles. In her free time, Lydia enjoys working out, volunteering, cooking, being involved in her church, and doing yoga.
Lydia will be attending the University of Northern Iowa this fall. She plans to pursue a degree in elementary education.