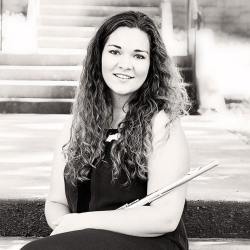 Emily Bieker
2015 Winner
Emily Bieker is a senior flutist at Waukee Senior High School in Waukee, Iowa. She has participated in numerous school ensembles including the Waukee Concert and Symphonic Bands, Waukee Jazz I and II, the Waukee Warrior Regiment marching band, as well as playing in the pit orchestra for musical productions.
Aside from participating in the Waukee Music Program, Emily was also selected on flute and piccolo for the Iowa All-State Music Festival for four consecutive years in high school, playing in the Band (2012) and Orchestra (2011, 13-14) as well as the Choir's chamber orchestra (2014). She has also played in many honor bands including the South Central Iowa Bandmaster's Association (SCIBA) honor bands (2009-10) and the Iowa Bandmaster's Association (IBA) honor bands (2011-12). She currently plays in the Des Moines Symphony Youth Orchestra, where she has been principal flute since 2013, also playing in their Honors Woodwind Quintet. Along with participating in a wide array of school and community ensembles, Emily has also received consecutive Division I ratings at IHSMA's Solo and Ensemble Contests throughout high school.
Emily is a student of Sandra Moore Wacha, former principal flute of the Des Moines Symphony, studying with her for nearly seven years. When not playing the flute, she keeps busy by giving lessons to middle school students in the Waukee area, along with working another job and other school academic and volunteer activities.
Emily plans to pursue a career in music consisting of performing and teaching.