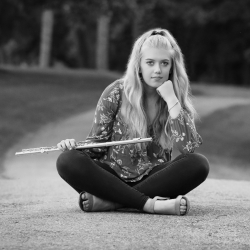 Elizabeth Hertzberg
2019 Winner
Elizabeth Hertzberg, a Waukee High School senior, began her musical journey in elementary school when she started taking piano lessons. She soon discovered her calling after moving to the flute in 5th grade, and hasn't looked back. Elizabeth is currently principal flute of the Waukee Wind Symphony. She served as section leader in the Waukee Warrior Regiment marching band and played in the pit orchestra for Waukee musical theater productions of Legally Blonde, The Hunchback of Notre Dame, and Cinderella. In both her junior and senior years, she was selected to perform as featured soloist. From the daylight to the limelight to the pit, Elizabeth loves playing the flute.
Since junior high, Elizabeth has pursued private instruction with Des Moines Symphony Academy flute choir director Anne Stein. Elizabeth's participation in the Des Moines Symphony Academy flute ensembles the past 6 years includes membership in the elite Zauberflöte flute quartet, where she has held first chair since 2016. She has performed with Zauberflöte and the Holiday and Summer flute choirs at the Governor's Mansion, downtown winter farmers' market, Sherman Hill, and Civic Center lobby preceding Des Moines Symphony concerts.
No stranger to competition, Elizabeth is a 4-year veteran of the Iowa All-State Music Festival, selected into the orchestra her junior and senior years. She won top honors in individual (2017 and 2018) and duet (2017) flute contests at the Perry Band Olympics, and is the 2019 recipient of the Central Iowa Wind Ensemble's 9th annual Aimee Krug Memorial Student Solo Competition.
Elizabeth begins formal study in music performance at the University of Iowa this fall. She plans to continue performing for audiences large and small and hopes to open her own music studio someday. Some might say music is a hobby, but for Elizabeth it truly is her life.