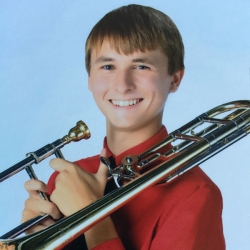 Eli Blay
2017 Winner
Eli Blay is a senior at Ankeny High School playing lead trombone for the top concert band. In addition, Eli is lead trombone in the jazz ensemble, marching band, and pep band. Eli's high school career consisted of two high schools. He spent three years at William Henry Harrison high school in West Lafayette, Indiana before moving to Ankeny in 2016 to attend Ankeny High School. In Indiana, Eli played lead trombone in the Chamber Winds, jazz ensemble, pep band, and marching band. In addition, he was a member of the Lafayette Citizens band. During his time in Indiana, Eli studied with William Kisinger, former Purdue University Band Master. Currently Eli studies with Casey Maday at the Des Moines Symphony Academy.
Eli has performed in All State honor bands in both states. He played in the 2015 and 2016 Indiana All State Honor bands. He played principal trombone in the 2016 Iowa All State Orchestra. Eli has played in various solo and ensemble contests in both Indiana and Iowa. In Indiana, he earned three Division 1 gold ratings at regionals and 2 state level Division 1 gold ratings for solo performances. In 2016, he earned a perfect score for his solo performance of Blue Bells of Scotland. In Iowa, Eli earned a second place overall finish in the 2017 Perry Band Olympics.
Eli is also active outside of music. He is a four year varsity letterman in track and field and a three year varsity letterman in cross country. He is a 2016 Iowa Academic All State cross country member. In addition, Eli has qualified for state in both cross country and track and field. Eli received most improved and most inspirational team awards in both Indiana and Iowa. In addition to sports, Eli is a member of the Ankeny High School National Honor Society.
Eli plans to attend Iowa State University in the fall where he will pursue a degree in Veterinary Medicine and a minor in music.