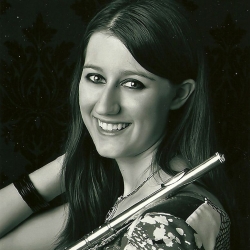 Elaine Kramme
2012 Winner
The 2012 winner of the Aimee Krug Student Soloist Competition is Elaine Kramme, a senior flutist attending Johnston High School, Johnston Iowa, where she is a member of the Wind Ensemble, Varsity Marching Band, the jazz program, and numerous chamber ensembles.
In addition to her activities with the Johnston High School Band program, Elaine has been selected for the Iowa All-State Band (2010), South Central Iowa Bandmasters Association (SCIBA) Honor Band (2006-2010), Central Iowa Youth Band (2009-2010), and the Des Moines Youth Symphony (2010-2011).
A six year student of Sandra Moore-Wacha, principal flute for the Des Moines Symphony, Elaine has performed with distinction at solo competitions at the State and SCIBA Festivals, including a "Best in Center" award for State Contest in 2011.
This evening, Elaine will be performing Cecile Chaminades's Concertino, a rhapsodic work in the romantic spirit featuring two principal themes. The work, composed by Cécile Chaminade in 1910, shows a mature understanding of the flute that emphasizes the beauty and technical qualities of the instrument. The original accompaniment was for piano, and this band accompaniment was scored by Clayton Wilson in 1960. Chaminade composed over 200 piano pieces and also wrote many literary articles. She began composing at the age of eight and began a career as a concert pianist when she was sixteen.
As the 2012 winner of the Aimee Krug Memorial Scholarship, Elaine will also be presented with a check for $500.00 to assist her with her continuing music education on behalf of the Central Iowa Wind Ensemble.