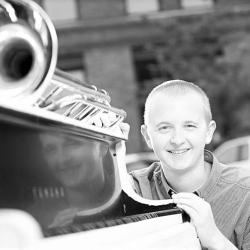 Adam Dostalik
2016 Winner
Adam Dostalik, a senior at Johnston High School, has studied piano for 12 years and trombone for eight. Currently, he is section leader in the Johnston High School Wind Symphony and Johnston Jazz Syndicate; drum major for the 2015 Johnston High School Varsity Marching Band; and conductor of the pit orchestra for Johnston's spring musical. He also participates in Cantus, Johnston's elite chamber choir, and Grace Lutheran Church's brass choir. Adam currently studies trombone with Dr. Grady McGrannahan and has studied piano with Sophia Ahmad and Carrie Guinta.
Adam participated in the Iowa All-State Music Festival as first trombone in the orchestra in 2011, 2012, and 2014 and first trombone in the band in 2013. In addition, he was selected as second trombone and soloist for the 4A Iowa All-State Jazz Band in 2012 and 2014. Adam was also awarded 3rd place for his piano performance of Chopin's "Etude in C-Sharp Minor" in the senior division of the Bill Riley Talent Search finals at the Iowa State Fair in 2013.
Outside of music, Adam serves as president of the Johnston High School chapter of the National Honor Society and the school's math club. In addition, he is team captain of his mock trial team and was named an All-State Witness at the state tournament in 2015, where his team placed sixth of 32 teams. Finally, Adam plans on participating in the IHSSA individual speech contest in 2016.
Next year, Adam plans on pursuing a degree in Music Education at either Luther College or the Jacobs School of Music at Indiana University in Bloomington with plans to become a high school or collegiate band director. He hopes to use his talents and abilities to help future students discover their own passion for music.